Manuscript of Robert Burns' Ye Banks and Braes saved for nation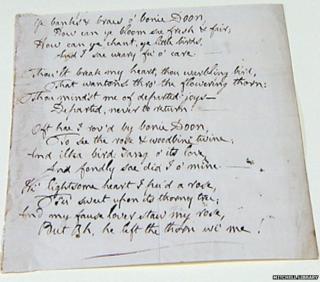 A hand-written manuscript of one of Robert Burns' most famous songs has been saved for the nation.
The copy of Ye Banks and Braes had been in private ownership and was recently auctioned in London for £35,000.
Mystery surrounded the identity of the buyer, rumoured to have been an American businessman.
BBC Scotland can reveal that the hand-written draft will now be joining the Robert Burns' Collection at the Mitchell Library in Glasgow.
The manuscript - written by the Bard himself - is on a watermarked piece of paper, likely to have been used by Burns while he was an excise man.
It is very well preserved and the library said it was in remarkable condition.
It will be readily accessible to the public and researchers and may occasionally be on display.
The Mitchell Library's Burns Collection is recognised by academics as world-class.
The library has already collected a wide and representative collection of Burns' works.