On song: Belle and Sebastian's Murdoch on his award-winning new film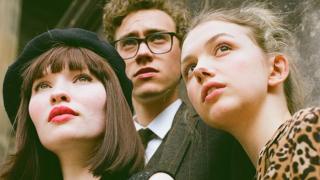 Stuart Murdoch, lead singer of Glasgow-based band Belle and Sebastian, has made his first foray into film-making.
His musical feature, God Help the Girl, was given its world premiere at this year's Sundance Film Festival, and won the event's World Cinema Dramatic Special Jury Award for Ensemble Performance.
The coming of age tale plays out over a "hazy summer" in Glasgow. It will be released in selected UK cinemas next month.
Murdoch starts with a confession.
"When the film was given its special jury prize at Sundance, I had already left the festival," he said.
"I was meeting my wife in Florida and had to catch a flight."
He added: "I had to record a little message to be beamed out at the festival. That was pretty rock and roll."
Filmed in Glasgow over 2012 and last year, God Help the Girl is Murdoch's first venture into writing and directing feature films.
It revolves around Eve, a teenager in hospital dealing with emotional problems and writing songs as a coping mechanism.
Eve absconds and goes on to befriend James, a fellow aspiring musician who works in a leisure centre, and Cassie who dreams of singing in a band.
The film features songs from Belle and Sebastian's album project of the same name.
Murdoch, who with the other band members formed Belle and Sebastian back in 1996, said: "We spent a year looking for a cast.
"We were looking for strong singing voices and auditioned some amazing musically talented people."
Emily Browning was cast as Eve, Olly Alexander as James and Hannah Murray as Cassie. All three have backgrounds acting on television and film.
Australian actress Browning starred as Babydoll in Hollywood film Sucker Punch and before that appeared in Australian police TV drama, Blue Heelers.
Bristol-born Murray has appeared in Skins, Game of Thrones and had a role in the movie Dark Shadows starring Johnny Depp.
Alexander was also in the Skins TV series and appeared in Jack Black film Gulliver's Travels.
Murdoch said: "Olly has now signed with a major record label. He was in the process of doing that at the time we were filming, but hopefully being cast in the film helped."
The film was shot in locations in Glasgow, a city well-known to Murdoch, who hails from Ayr, a town less than an hour's drive away down the M77.
Edinburgh's Corn Exchange will host a special screening of God Help the Girl on 16 August that will be beamed via satellite to cinema venues across the UK.
Murdoch said: "As a bonus, well I hope people will see it as a bonus, there will be a performance by Belle and Sebastian after the film. The three original singers from the 2009 LP will also be singing."
Murdoch said he has ideas for other films, though one he had been quietly incubating has had to go on the back burner.
"I had this idea for a story about a girl who falls for this kind of domestic computer," he said.
"Then the film Her came out. It is a great film, but because my idea has a similar vibe I've had to put it to the bottom of the pile."
Her, written and directed by Spike Jonze and released last year, stars Joaquin Phoenix as a lonely writer who forms an unlikely relationship with an operating system voiced by Scarlett Johansson.
Murdoch added: "For now it is back to the day job of getting ready for a new tour with the band."
God Help the Girl will go on general release in UK cinemas on 22 August.