Employee hurt in fall from Blythswood Square hotel in Glasgow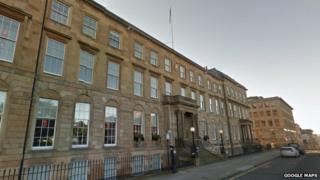 A 19-year-old man has been seriously injured after falling from the roof of a hotel in Glasgow city centre.
The teenager was taken to the city's Royal Infirmary after falling from the Blythswood Square hotel, on to West George Street, at about 05:00.
The hotel said he was an employee who had been a guest of a former employee who was staying in the Penthouse suite.
It said the incident was believed to be an accident and there was no suggestion of anything suspicious.
'Very distressing'
Hans Rissmann, managing director of Blythswood Square, said: "The young man is currently in hospital and contact has been made with his relatives. Everyone's thoughts are with them at this time.
"The man is an employee of the hotel and was a guest of a guest who was staying in the Penthouse at the time and is a former employee.
"It is believed that the incident was an accident and that there is no suggestion of anything suspicious. The hotel is providing every co-operation to the authorities."
Mr Rissmann added: "This is a very distressing time for everyone associated with the hotel. A full inquiry will be undertaken in order to understand the circumstances surrounding this accident."