Photo plea over bottle attack on girl during Orange parade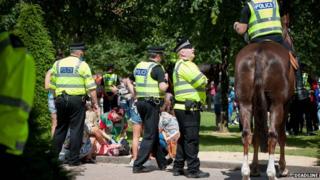 Police investigating a bottle attack on a 12-year-old girl during an Orange Order parade in Glasgow are appealing for photos or video of the incident.
The girl and a female relative, aged 22, were watching the parade at Glasgow Green on Saturday afternoon when a fight broke out nearby.
Both were struck. The girl was treated for a head injury at Yorkhill Hospital. Her relative suffered a hand cut.
People with photos or video have been asked to send them to police.
Det Sgt Ronnie Payne, of Police Scotland, said: "This was a particularly nasty incident which left a 12 year old girl with a head injury that may leave scarring.
"I know that Glasgow Green was very busy on Saturday afternoon with bands, followers and members of the public.
"Many people would have been taking pictures on their mobile phones or cameras and may have images that would assist police.
"I would urge people who were in the park and took photos to check if there are any that caught the disturbance or the girl being struck. If so, I would urge them to email them to the dedicated email address: GlasgowGreenAppeal@scotland.pnn.police.uk."