Glasgow 2014: Foreign athletes face exit checks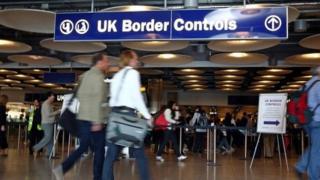 Commonwealth Games athletes from outside Britain will be tracked by the UK government after the event to make sure they have left the country.
Home Office Minister Karen Bradley said "arrangements" were in place to ensure those with clearance for the Games leave within the permitted time limits.
She was responding to a parliamentary question about participants remaining in the UK illegally.
A total of 71 countries will participate in Glasgow 2014.
Every participant and "Games family member" have undergone comprehensive record checks "to minimise attempts to abuse our hospitality", Ms Bradley said.
A written question from Conservative MP for Shipley in West Yorkshire, Philip Davies, asked what the government was doing to stop participants staying in the UK illegally after the Games.
Ms Bradley said: "The rigorous accreditation process that contributed to the success of the Olympic and Paralympic Games in 2012 has also been central to our preparations for Glasgow 2014.
"To minimise attempts to abuse our hospitality after the Games have ended, comprehensive record checks on all Commonwealth Games participants and Games Family Members are conducted before they are cleared to enter the UK.
"We have also introduced arrangements to confirm that people given Commonwealth Games clearance have left the UK within their permitted time limits."