Glasgow Science Centre tower to reopen on 19 July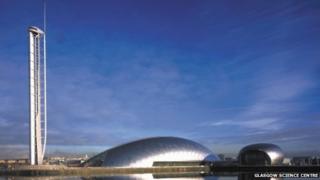 The Glasgow Science Centre tower is to reopen on 19 July, almost four years after visitors were last allowed up it.
The 127m (416ft) rotating tower has been plagued by problems since it opened in 2001 and has been closed for more than 80% of its life.
The Science Centre said the £10m structure had undergone a £1.8m revamp with repairs to the thrust bearing and replacement of the existing lifts.
Trips to the 105-metre high viewing cabin will cost £4.95.
The tower will remain open for the rest of Science Centre's summer season before closing on 2 November for the winter.
Science Centre chief executive Dr Stephen Breslin said he was "excited" by the reopening of "an iconic landmark along the River Clyde and a world-class feat of engineering".
"We have been working on bringing the tower back into operation for some time now and we are pleased that it will be open for visitors from both home and abroad to enjoy this summer," he said.
"There has been a significant investment in the refurbishments and the visitor experience to ensure Glasgow Tower is a must-visit location for Glaswegians, Scots and international visitors alike."
The tower is said to be the only structure on earth capable of rotating 360 degrees into the prevailing wind.
It holds the Guinness World Record for the tallest fully rotating freestanding structure in the world and is also the tallest freestanding structure in Scotland.
Some of the cost of the redevelopment was paid for by money from a settlement reached with the original contractors.
The rest of the cost has been met by Scottish Enterprise and Glasgow City Council.
Bailie Liz Cameron, executive member for jobs and the economy at Glasgow City Council, said: "This is a great day for Glasgow as we mark the reopening of the Glasgow Tower, a fantastic building on the banks of the Clyde.
"The remarkable technology and engineering behind this extraordinary structure continues the great tradition of these fields in Glasgow.
"I am certain the Glasgow Tower will prove to be a great attraction for both the people of the city and our visitors."
The refurbishment of the tower has added a new interactive visitor experience area at its base and new technology in the viewing cabin.
Visitors to the 105-metre high cabin will be able to take in 20-mile views of Glasgow and its surroundings on a clear day.
The Science Centre expects the tower to be an extremely popular attraction over the summer, with Glasgow's population swelled during the Commonwealth Games.
It said time slots for visiting the viewing cabin would be allocated and urged potential visitors to book tickets in advance.