GSA student recreates artwork with ashes from Mackintosh fire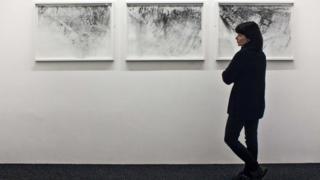 A Glasgow School of Art student who lost all her work when a fire swept through the Mackintosh Building has recreated part of her degree show using ash from the blaze.
Melissa Maloco originally used carbon powder in her piece Negotiation of Space (A Door Opening and Closing).
It was lost when fire swept through the library and studios of the world-famous building in May.
Now she has recreated it with ash for an exhibition, GSA at Dunoon.
Melissa, who graduated in Fine Art Photography, said: "This was my favourite work in my degree show presentation.
"When I was invited to make work for the GSA at Dunoon exhibition my first thought was to remake it in some way.
'Giving life'
"The fire was such a huge, pivotal moment in all of our lives that making the pieces felt necessary as a means of processing the event."
She added: "The fact that the carbon used in these drawings came directly from the Mackintosh Building after the fire added another layer to the already loaded material.
"I felt that there was something very fitting and beautiful in the use of a material born out of destruction and tragedy 'giving life' to new artwork.
"Also, being granted access to the Mack post-fire to create the work really helped me to deal with and process the incident."
Melissa's pieces will be shown alongside work by eight other artists and designers who graduated from the GSA last month.
The exhibition, titled Part Seen, Imagined Part: GSA in Dunoon, runs in the town's Burgh Hall from 4-26 July.