John Davis faces life sentence for murdering girlfriend Hazel North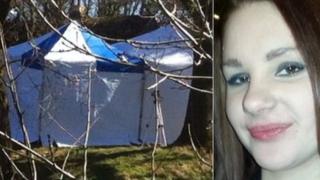 A man is facing life in jail after he admitted murdering his girlfriend, then burying her body in a park.
John Davis, 26, carried out a "brutal and sustained assault" on Hazel North at his flat in Kilmarnock, Ayrshire, in March.
The High Court in Glasgow heard Hazel, 19, may have lay dying for up to 18 hours.
Davis then hid the remains in the town's Dean Park and later boasted to a friend: "I done her in and buried her".
It emerged the 26-year-old had only been recently released from prison after carrying out an assault using a golf club.
A massive police search had been launched for Hazel, from Dunfermline, Fife, who was reported missing by her family three weeks before her body was discovered.
Hazel's family packed the courtroom to hear details of her death and the grim discovery of her body.
Prosecutor David Nicolson told how Hazel had started dating Davis in May 2012 after meeting in Stranraer.
'Out of character'
The relationship was described as "on-off" at the time of the murder.
Hazel had last spoken to her parents on 28 February, which was also the same day she was last seen.
Mr Nicolson said this was "completely out of character" adding: "It was unusual for her not to be in contact with her family."
It eventually led to a large-scale missing persons inquiry being launched on 19 March, while Hazel's relatives set up a Facebook appeal.
Suspicion soon fell upon Davis as police stepped up investigations.
Davis's friend James Christie told detectives of a conversation he had with the killer on 18 March.
Mr Nicolson told the court: "Mr Christie said both he and Davis had been in his home and when he asked him where Hazel was, (Davis) responded that he had 'done her in and buried her'."
Detectives were desperate to track down Davis during the missing persons hunt but could not contact him.
'Brutal fashion'
He eventually turned up at Kilmarnock police station and told officers: "Hazel is dead and I'll show you where she is."
He then took them to Dean Park, pointed to the ground and said: "She is in there."
He added: "This is helping me. I realise what I did was wrong and I'll face the music from here."
Davis's lawyer Simon Gilbride said: "Why he did what he did that day, he does not really know."
Mr Gilbride added: "He does recall that it was 9 March she died.
"After that happened he panicked and disposed of the body. He then effectively ran away.
"He could not come to terms with the gravity of the situation."
Judge Lady Rae will sentence Davis on Wednesday.