Chef jailed after Dunoon beach rape of teenager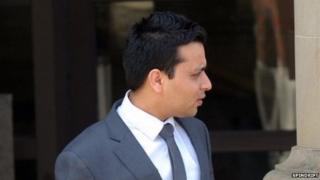 A Nepalese chef convicted of raping a 14-year-old girl has been jailed for three-and-a-half years.
Prakash Giri had sex with the teenager in June 2012 at a beach in Dunoon, Argyll.
The 29-year-old had denied raping the girl or even having sex with her, but his DNA was found on her underwear.
Judge Sean Murphy QC told the High Court in Glasgow: "She was unused to drinking vodka and was taken advantage of by you."
Giri, who worked at a hotel in Dunoon, had returned to court for sentencing after being found guilty earlier this month.
"The girl was plainly drunk on the night in question and could remember little of the incident," added the judge.
The trial previously heard how the girl and a 14-year-old friend were both drunk on vodka that night.
Giri and his work-mate, Arjun Kharel, encountered the girls while walking along the beach at Alexandra Parade.
The rape victim recalled falling on steps and said the next thing she remembered was lying on her back with Giri on top of her.
She told the court she did not consent to any sexual activity.
In his speech to the jury, prosecutor Richard Goddard said Giri "did not care" the girl was only 14.
"He just didn't care that she was in no condition to consent to intercourse with him due to the severely intoxicated state she was in," added Mr Goddard.
Kharel, also from Nepal, was also up for sentencing after being found guilty of having underage sex with the rape victim's 14-year-old friend.
Judge Murphy placed him on supervision for two and a half years and ordered that he carry out 150 hours of unpaid work.