Post-mortem on humpback whale on Mull a first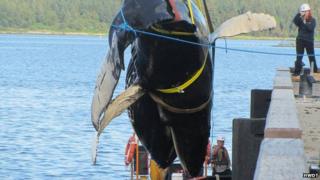 Scotland's first full post-mortem of a humpback whale has been carried out by veterinary pathologists.
The 22ft (7m) long, eight-ton male calf died after it became stranded at Fishnish on Mull last week.
The Hebridean Whale and Dolphin Trust (HWDT) and Scotland's Rural College carried out the examination.
HWDT said it was thought to be the first recorded stranding of a humpback on the island. Preliminary results of the tests suggest the whale drowned.
The cause of the drowning was unknown at this stage.
The whale was discovered floating close to shore last Wednesday, and was lifted out of the sea by crane the following evening.
HWDT said the calf had not recently been feeding and was probably still dependent on its mother.
The Tobermory-based trust's strandings officer Dr Conor Ryan, who is an expert on humpback whales, assisted veterinary pathologist Andrew Brownlow, of Scotland's Rural College, with the examination.
Dr Ryan: "This highly unusual and sad discovery is a reminder that Scotland's west coast waters are extremely special and host a great variety of marine species."
Humpbacks are rarely seen in the Hebrides but are known to migrate through the region far from shore when travelling between their tropical breeding grounds and Arctic feeding grounds.
They were hunted in the Hebrides in the early 1900s. However, only 19 were caught during 20 years of hunting.
HWDT said this figure suggested that the whales had been over-exploited by whalers elsewhere to the north and south of Scotland.