Mathew McKenna jailed for Glasgow knife rampage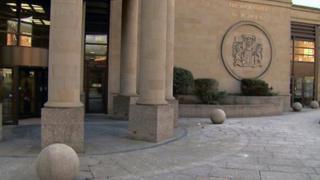 A violent offender who carried out a string of knife attacks during a rampage in Glasgow city centre has been jailed for five years and eight months.
Mathew McKenna, 44, admitted robbing a teenager at knifepoint, wounding a woman in the face and slashing a 65-year-old man on 26 January this year.
The attacks ended when he dropped his knife after being knocked to the ground by an unknown passer-by.
McKenna's previous convictions include robbery, assault and knife carrying.
Jailing him at the High Court in Edinburgh, judge Lord Turnbull told McKenna: "You have a lengthy record of previous convictions which includes many offences concerning acts of violence and the possession of weapons."
Lord Turnbull told him he would have jailed him for seven years but for his guilty pleas.
Supervision order
The judge also ordered that McKenna should be kept under supervision for a further four years.
Unemployed McKenna, from King's Park, Glasgow, originally admitted the crimes at the city's sheriff court.
The case was sent to the high court, which has greater powers of sentencing, by Sheriff Kenneth Mitchell.
The high court heard that McKenna attacked and robbed his first victim, 19-year-old Jamie Massot, at Glasgow Bridge as he was heading home.
The victim heard a shout and was pushed from behind. He turned to face McKenna who asked: "Do you remember me?"
Mr Massot told him "No" and McKenna said something about one of his friends "getting wide" although the teenager did not know what he was talking about.
McKenna pulled out a knife and demanded his wallet. The teenager did not have a wallet but handed over about £30 as a knife was held at his stomach.
The attacker searched him and took a mobile phone and lighter and continued to demand his wallet and threatened to stab him.
He told the victim to continue walking across the bridge and Mr Massot later asked a security guard to call police.
Advocate depute Mark McGuire said that after midnight McKenna walked into the Empire Bar at Saltmarket but was told last orders had been called and he would not be served.
He walked back out and cook Caroline Weaver, 40, who was standing outside also told him the pub was closed.
Attack denied
McKenna pulled out a knife and struck her in the face. Customers and staff left the bar and found her with her face covered in blood.
A staff member shouted at McKenna: "What have you done." but he claimed it was not him.
A male passer-by punched McKenna in the face, but he then lashed out and struck retired Joseph McPhelim to the side of his head.
The passer-by then punched McKenna again and he fell to the ground.
Bar staff took the knife, which had a seven-and-a-half inch blade with its handle wrapped in cellophane.
Mr McPhelim and Ms Weaver were taken to hospital.
The male victim had 20 stitches in his ear and scalp along with four staples. He will be scarred for life.
Ms Weaver had a cut above her right eyebrow glued.
McKenna was taken to a different hospital and was found to have a broken nose.
He later pleaded guilty to assaulting and robbing Mr Massot, assaulting Ms Weaver to her injury and assaulting Mr McPhelim to his severe injury and permanent disfigurement.