Commonwealth Games contracts worth more than £400m awarded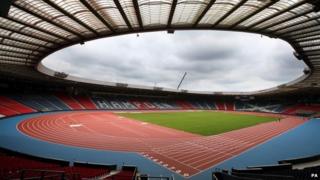 Commonwealth Games-related contracts worth £401m have been awarded so far, Glasgow City Council has revealed.
In its final update before the Games begin, the council said contracts worth more than £200m had been awarded to firms and organisations in Glasgow.
Recent awards include the construction of the athletics track at Hampden Park, venue and athletes' village catering and temporary energy supply.
The Commonwealth Games runs in Glasgow from 23 July to 3 August.
Glasgow City Council leader Gordon Matheson said: "Our preparations for the Games have resulted in not only this massive economic legacy, but a city that is improved environmentally and socially.
"This report shows that the council's legacy plans for the Games have already delivered real change for Glasgow."