Scott Johnston jailed for raping woman in Glasgow flat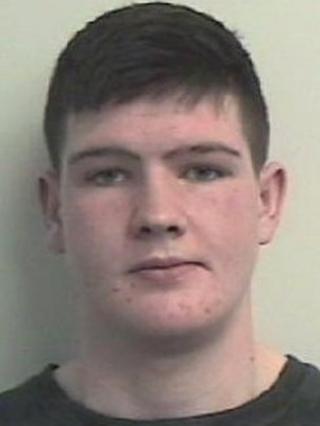 A teenager who raped a 51-year-old woman in her Glasgow home has been jailed for six years and nine months.
Scott Johnston, 19, from East Kilbride, followed the woman as she walked past Hampden Stadium where he had been at a night out on 8 December last year.
He later forced his way into her Mount Florida flat and repeatedly hit her with an iron and raped her.
Johnston, who admitted the crime, was caught when his employer recognised a police description of the attacker.
Jailing him at the High Court in Glasgow, judge Lady Rae told Johnston: "All rapes are horrid crimes but what aggravates this is that the complainer was unknown to you, a complete stranger.
'Degrading' assault
"You entered her home uninvited and forced yourself on her.
"This was a degrading sexual assault and you violently assaulted her with a weapon causing her severe injury."
Lady Rae added: "What is concerning is the level of brutality you are capable of when intoxicated.
"What you did to this lady has had a devastating effect on her. She can no longer live in her home."
Previously, the court heard how Johnston encountered the woman as she walked past Hampden Stadium where he had been attending a Christmas party.
He then followed her to her flat where he forced his way inside and raped her.
A friend of the woman, who spotted Johnston talking to her as she walked along the street, was so worried that he dialled 999.
However, when he saw the woman enter her close and Johnston take a different route he phoned back to say she was in her house safe and well.
Minutes later the friend walked past her flat again and saw someone entering the close. It was only later he realised it was probably Johnston.
The court was told that the victim, who cannot be named for legal reasons, had been out for the night drinking, singing karaoke and dancing with a friend in a bar in nearby Kings Park.
Held down
She left there about midnight and decided to walk home.
The victim later recalled being attacked in her home and having her head held down and not being able to move.
During the attack, the 51-year-old managed to get hold of an iron and strike Johnston with it.
She saw him stumble backwards and a comb fall out of his pocket.
Johnston then became enraged and took hold of the iron and struck her with it, causing blood to pour from her head.
Fearing for her life, the victim played dead and was then raped by Johnston.
The court heard that following the attack, police released a detailed description of the attacker.
After reading it Johnston's employer contacted them.
Forensic experts later found DNA matching Johnston's on the victim's clothes and on the comb he had dropped.