Disciplinary probe over Victoria Infirmary elderly care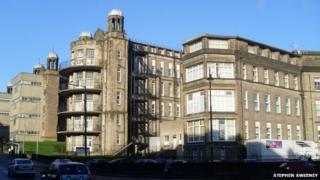 A disciplinary investigation is under way at a Glasgow hospital over the poor treatment of elderly patients.
Inspectors saw Victoria Infirmary staff pulling a patient in a chair with their feet dragging on the floor.
They also criticised the practice known as boarding - moving patients from ward to ward to help with bed shortages rather than clinical need.
NHS Greater Glasgow and Clyde said it had taken immediate steps to address the concerns outlined by inspectors.
A team from Healthcare Improvement Scotland (HIS) carried out unannounced inspection visits at the Victoria Infirmary from 22 to 24 April and on 19 May.
Boarding cases
The inspectors' report noted that although boarding was not hospital policy they had been told of 162 cases within the last month.
The report said: "There did not appear to be an effective system to prevent patients being boarded in the hospital."
Inspectors also found problems surrounding the discharge of patients and noted: "We also saw that an action plan had been produced after an internal audit on discharge in 2010.
"However, we saw no evidence that this action plan had been implemented or followed up, and some issues we identified during this inspection were also found in the 2010 discharge audit."
Inspectors found "particular concerns about patient care in one ward" - Lomond View - which is part of the Mansionhouse Unit and mainly used for patients with dementia.
Their report stated: "We saw several examples where we were concerned that staff were not treating patients with the dignity and respect we would expect."
The report also noted instances of "inappropriate staff interactions", including incidents were patients were moved around with their feet dragging on the floor.
Inspectors said: "As part of our feedback process, we escalated concerns we had about this ward to senior management."
Jacqui Macrae, HIS head of quality of care, said the inspection had "highlighted a number of areas" for improvement.
"During inspection, we were particularly concerned about patient flow and capacity within the hospital," she said.
Care concerns
"We found no effective system in place to prevent patients being boarded and saw evidence of patients being moved to wards and other NHS Greater Glasgow and Clyde hospitals because of bed availability rather than patient need.
"We also had concerns about patient care in one particular ward. We escalated these concerns, as part of our feedback process to senior management."
Ms Macrae said the inspection had resulted in 19 areas for improvement and one area for continuing improvement.
She added: "NHS Greater Glasgow and Clyde must address the areas indentified for improvement as a matter of priority. We will follow up these concerns at future inspections to ensure that improvements are made."
Rosslyn Crocket, NHS Greater Glasgow and Clyde's director of nursing, said: "As the nursing director of the board I am very disappointed at some of the findings highlighted by this report.
"In response we have instigated a disciplinary investigation against one member of staff and changed local senior nursing arrangements where necessary.
"We note the HIS comments regarding capacity. We are clearly aware that some of our hospitals are old and do not offer the accommodation we require to deliver 21st Century health care.
"This is why we are undergoing a near billion pound modernisation of Glasgow's hospital provision which will result in the closure of four existing acute hospital sites, including the Victoria Infirmary and Mansionhouse Unit."