Eric Clapton cuts short concert after 'technical issue'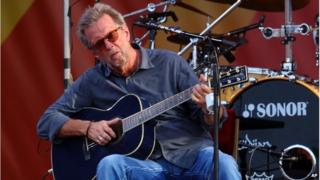 The management of the Glasgow Hydro have said the sudden end to an Eric Clapton concert was due to a "technical issue".
Many fans were left disappointed and angry after the Saturday evening performance by the veteran guitarist.
Clapton was reported to have left the stage suddenly mid-way through the song Cocaine.
He did not return and the audience eventually left with, many claimed, no explanation of what happened.
A statement issued by the Hydro said: "'The production team for last night's performance suffered a technical issue which resulted in the concert ending earlier than anticipated.
"By the time the venue had been made aware of the circumstances patrons were already leaving the bowl.
"However, our stewards and staff did their best to convey this information as it became known."
Hundreds of concert-goers reported the incident on Twitter.
Emily Dowd said: "Eric Clapton broke my heart last night. Best gig ever to worst gig in seconds. An explanation would have been nice."