Dancers take the floor for Commonwealth Ceilidh relay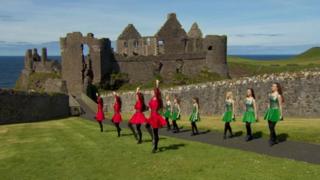 A round-the-world ceilidh dancing relay is under way as part of the cultural celebrations to mark the Commonwealth Games coming to Glasgow.
Dances are taking place in Australia, Asia, Africa, Europe and the US, with each country performing its own take on a traditional ceilidh.
It has been organised by the Royal Scottish Country Dance Society (RSCDS).
Events began in Auckland, New Zealand, and the dancing is heading west to reach Scotland on Saturday evening.
The ceilidh relay will travel 18,250 miles in 24 hours before ending in Hawaii.
The event is part of the Glasgow 2014 Cultural Programme and the Get Scotland Dancing project.
'Something for everyone'
Dances are taking place in 65 locations around the world in countries including Australia, Indonesia, Russia, South Africa, Jamaica, the USA, Scotland, England and Northern Ireland.
A series of modern dances made up of ceilidh, hip hop and Indian dancing will be performed at events in Scotland.
Elizabeth Foster from the Royal Scottish Country Dance Society said: "The Commonwealth Ceilidh provides something for everyone; all ages, all abilities, everywhere!
"Join the Ceilidh on Midsummer's Day - celebrate, dance and have fun. Afterwards, keep up the momentum and stay fit by going along to a Scottish country dancing or ceilidh class near you."