Hen harrier chicks rescued after mother killed in East Ayrshire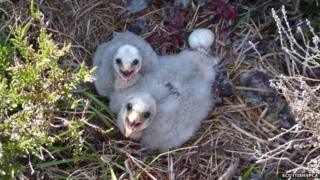 Two orphaned hen harrier chicks are being hand reared by wildlife experts after their mother was killed in East Ayrshire.
Police Scotland has begun an investigation after the rare bird of prey was found dead on moorland near Muirkirk.
The chicks, found nearby, are being looked after by the Scottish SPCA.
Killing a wild bird is a crime punishable by a fine of up to £10,000 and six months' imprisonment.
Det Insp Graham Duncan, of Kilmarnock CID, urged anyone with information about the bird's killing to contact police.
He said: "Whilst at this time we cannot divulge how the bird was killed, we do believe it was the result of a criminal act and we need to establish why this has happened.
"What is the reason for it? Was it for sheer badness or amusement or perhaps something more sinister?
"We do not believe the bird was lying there for a long time, so would appeal to anyone who was in the area - which is quite remote - on Tuesday 17 June or who can assist with our enquiries, to come forward."
Chf Supt Mike Flynn, from the Scottish SPCA, said: "Hen harriers are rare and it is very concerning that someone has killed such a magnificent bird of prey.
"We can be thankful the two chicks were still alive as they would have died had they not been rescued."