Celtic fan wins £3k compensation after Amsterdam violence acquittal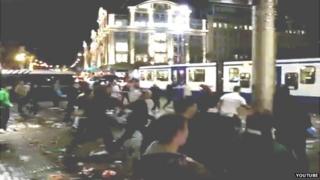 A Celtic fan arrested during disorder in Amsterdam in November has been awarded about £3,000 by Dutch courts.
John Quigley, 49, was detained when trouble broke out before the champions league match against Ajax.
He was later acquitted of violence against police. The compensation includes money for time spent in custody and the cost of his ticket.
Five other Celtic fans were given jail sentences but were released pending an appeal.
During the disorder, police made 44 arrests, 28 of them Celtic supporters.
Most were later freed, either without charge or after paying a fine.