Allison McGarrigle murderers fail to reduce jail terms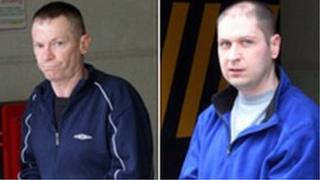 Two paedophiles have failed in a legal bid to have their minimum sentences cut for murdering a woman who planned to report them for abusing a boy.
William Lauchlan, 37, and Charles O'Neill, 51, killed Allison McGarrigle, 39, in Largs in 1997. Her body was dumped at sea and has never been found.
Lauchlan and O'Neill are serving at least 26 and 30 years respectively.
Appeal judges rejected claims the jail terms were excessive as no cause of death had been established.
At the Court of Criminal Appeal in Edinburgh, Lord Carloway, sitting with Lord Menzies and Lord Brodie, were told that the sentences were out of line with other cases where no cause of death had been established.
Failed appeal
The appeal judges rejected the argument.
They also threw out Lauchlan's complaint that he had been treated too harshly because he was under the influence of O'Neill.
The two men had earlier tried, without success, to challenge the murder convictions.
They had also lodged a separate appeal against convictions for sodomising vulnerable youngsters which had to be dealt with before the judges could turn their attention to the murder sentences.
Defence lawyers had argued that for technical reasons there was no proper corroboration of the sex charges but their claims were rejected.
Some of their abuse had been carried out in a camper-van in Benidorm, Spain, and another youth had been attacked during a trip to Blackpool.
After the murder trial in 2010 it emerged that Lauchlan and O'Neill had previous convictions for sex assault and rape of children.
They offered their services as baby-sitters, particularly to women with drink problems, to gain access to their child victims.
Mrs McGarrigle moved to Rothesay, Isle of Bute, after her marriage broke up and met Lauchlan and O'Neill there.
She was reported missing by her husband in 1998 and legally declared dead seven years later.
The trial heard of a violent row in June 1997. Lauchlan pushed Mrs McGarrigle as she yelled: "I know what you are up to and I will make sure I see what is coming to you."
She was never seen again and, the trial heard, O'Neill later boasted: "She is feeding the fishes."