Glasgow 2014: Trains staff agree Games payments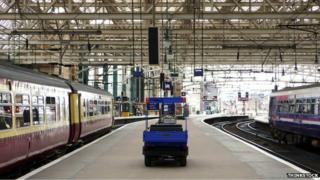 Train staff have agreed bonus and overtime payments with ScotRail for working during the Commonwealth Games.
They will receive a £250 lump sum and £46 per hour for Sunday work. Overtime will be paid on all shifts that are extended and rounded up to the hour.
The union, Aslef, said members could earn up to £1,500 extra if they worked two Sundays and a small amount overtime added to their lump sum payment.
ScotRail confirmed it had reached a deal to deliver the Games timetable.
A ScotRail spokeswoman said: "We have reached a deal with Aslef that ensures we can deliver the biggest Commonwealth Games timetable that Scotland has ever seen."
Aslef district organiser Kevin Lindsay said: "I believe that this agreement gives Aslef members a share of the additional revenue that the Games will create and will allow ScotRail the flexibility it requires to deliver their extended timetable."