Elaine Doyle murder: John Docherty guilty of 1986 killing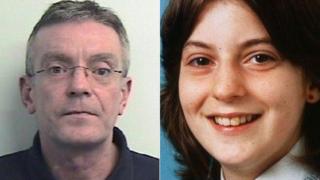 A former soldier has been convicted of murdering 16-year-old Elaine Doyle in Greenock in 1986.
John Docherty, 49, from Dunoon, Argyll, had denied strangling the teenager whose naked body was found yards from her home in the Inverclyde town.
During the trial, the High Court in Edinburgh heard how Docherty's DNA was found on Elaine's body.
Sentence was deferred until August when Docherty will find out the minimum he will have to serve of a life term.
'Justice for Elaine'
Following the verdict, Elaine's mother Maureen said "the pain doesn't go away" but the family took comfort that they now "have justice for Elaine".
She thanked all the police who had worked on the inquiry since 1986, prosecutor John Scullion and Lord Advocate Frank Mulholland.
She said Mr Mulholland had shown her late husband Jack kindness when they met three years ago and had followed the progress of the inquiry since 1986.
Mrs Doyle added: "The people of Inverclyde who have lived this nightmare with us for the last 28 years and have always supported our family.
"The result at court doesn't make our day-to-day living any easier - the pain doesn't go away, but, my son John and I take comfort that we now have justice for Elaine, which is all we, especially her dad Jack, campaigned for."
The conviction of Docherty brings to a close one of Scotland's longest running unsolved murders.
The trial, which heard 50 days of evidence, was told how Elaine had attended a disco at Greenock Celtic Club in the town's Laird Street before she died.
'See you tomorrow'
She left with best friend, Lynn McCurdy, now 44, who told the trial how they walked together to a hamburger stall in Greenock town centre.
Around midnight they went their separate ways, with Elaine beginning to walk home - turning down the offer of a lift with another friend's brother.
Mrs McCurdy said her last words to Elaine were: "OK I will see you tomorrow."
The court heard how the naked body of the teenager was found in a lane just yards from her home in Ardgowan Street on 2 June 1986. She had been strangled.
Forensic scientist Pauline McSorley told the trial that she had tested DNA that was found on Elaine's body and clothing.
She said tiny traces matched the DNA of police, forensic scientists, and a member of the laboratory staff.
But two results could not be accounted for until Mr Docherty volunteered a sample of his DNA in May 2012 and gave another sample on March last year, when he was arrested and charged with the murder.
Investigation criticised
The trial heard that the DNA on Elaine's back was an exact match. DNA on the girl's face also matched Docherty's profile.
Mrs McSorley said it was 560,000 times more likely it came from the accused than any other unrelated male.
Docherty's defence QC Donald Findlay called witnesses from among 41 other names on police files and attempted to show how someone else could have been responsible.
He also branded the police investigation "a shambles" and said officers had not told the truth and had contaminated the crime scene, meaning the DNA evidence was not reliable.
The eight women and seven men of the jury did not believe Docherty's defence, however, and convicted him of murder.
Judge Lord Stewart deferred sentence on Docherty until August for reports.
He will impose a mandatory life sentence for murder and tell Docherty the minimum time he must serve before being eligible for parole.
Following Docherty's conviction, Det Supt Bobby Hendren said he was "extremely pleased" with the verdict.
"This investigation has always been about Elaine Doyle and her family and bringing the man responsible for her murder to trial," he said.
"I would like to pay tribute to her mum and brother who have continued to support us throughout this investigation and I am sorry that her dad is no longer with us to hear the verdict.
"I can only hope that today's verdict brings them some comfort."
He also thanked the people of Greenock "for their continued help and support in the past 28 years" and acknowledged that Elaine's "senseless murder" had "cast a long shadow over the town".