Driver whose car killed Mhairi Convy and Laura Stewart branded reckless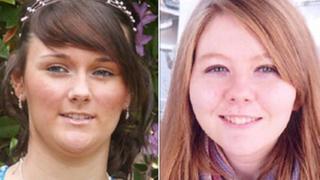 A man whose car mounted a pavement in Glasgow killing two students has been accused of lying and being reckless for not disclosing he suffered blackouts.
William Payne appeared as a witness at an inquiry into the deaths of Mhairi Convy, 18, and Laura Stewart, 20, in Glasgow on 17 December 2010.
The 53-year-old refused to answer some questions after being advised he did not have to if it may incriminate him.
A previous criminal case against Mr Payne was dropped by the Crown.
Following this, the fatal accident inquiry was then arranged to look at the circumstances of the deaths of Ms Convy and Ms Stewart.
Sheriff warning
They were killed by Mr Payne's Range Rover on North Hanover Street in Glasgow.
Appearing as a witness, Mr Payne was advised that his examination did not constitute a bar to criminal proceedings.
He was warned by Sheriff Normand that he was not required to answer any question which may show him to be guilty of a crime or offence but he did have to answer questions that did not incriminate him.
During his appearance, Mr Payne faced a series of questions from Dorothy Bain - the QC representing the families of the two women - but he refused to answer many of them.
Ms Bain still quizzed him on the renewal of an HGV licence in July 2010 - five months before the accident.
The QC said the "no" box was ticked on a document asking if Mr Payne had suffered any blackouts in the last five years.
However, the court heard a number of claims Mr Payne had collapsed during that time - including once while taking his dog to the vet.
'Utterly unreliable'
Ms Bain accused Mr Payne of being "totally and utterly unreliable about his medical history".
She went on: "If you had answered 'yes' (on the document), you would not have been allowed to drive.
"You were reckless to the safety of other people using the streets because as we have seen today you are just looking out for number one.
"That should be your mantra - number one, that is what matters."
Mr Payne replied: "I don't want to answer that."
The QC also said: "Your selfishness has taken the lives of two young women. What more serious thing has happened to you.
"Two young women perfectly innocently going out doing their Christmas shopping.
"You could have prevented that by telling the truth."
'Sorry' claim
Mr Payne again replied he could not answer what was put to him.
The QC later referred to Mr Payne's police interview after the accident in which he claimed he was "sorry".
Ms Bain said to Mr Payne: "You could have been stopped driving in the July. Do you know what would have happened?
"You would not have to be sorry or even be here today as Mhairi Convy and Laura Stewart would be alive.
"The responsibility rests squarely on your shoulders."
He replied: "I cannot answer that question."
The inquiry continues.