Miltongrange Nursing Home in Carluke told to improve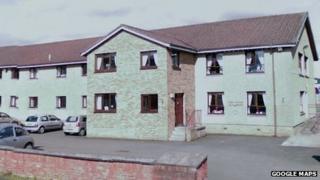 An elderly care home in South Lanarkshire has been told to make immediate improvements or face having its registration cancelled.
The Care Inspectorate issued the ultimatum to Miltongrange Nursing Home in Carluke over "serious concerns" with residents' nutrition and skin care.
Other problems were found with staff training and skills, management and poor infection control procedures.
The improvement notice requires the home to address seven areas of concern.
A spokesman for the Care Inspectorate said: "We were concerned about the way in which the needs of residents were being met, including concerns about skin care and nutrition.
"We were also concerned by poor infection control procedures; staff training; staff skills and competencies; notification reporting; and the quality of management and leadership.
"Everyone in Scotland has the right to safe, compassionate care which meets their needs and respects their rights. Where we have concerns we do not hesitate to take action."
The spokesman added: "We will be inspecting this service again soon to ensure that progress is being made."