Rosemary Milroy sentenced over garden centre car death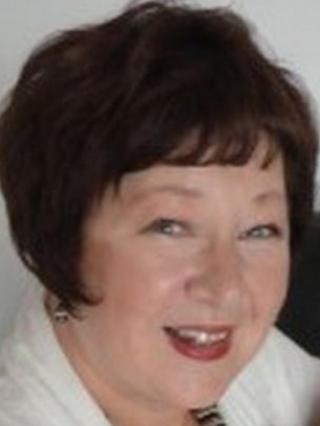 A driver who killed a woman after reversing over her at a garden centre in East Ayrshire has been ordered to carry out 300 hours of unpaid work.
Rosemary Milroy, 54, admitted causing the death of 63-year-old Alison Hall outside MGM Garden Centre in Ayr Road, Kilmarnock, on 10 December 2011.
Mrs Hall's husband George was also seriously injured after Milroy's foot slipped on the accelerator of her car.
At Kilmarnock Sheriff Court, Milroy was also given a five-year driving ban.
The court heard that Mr and Mrs Hall were shopping for Christmas trees when they were hit.
Milroy, who has multiple sclerosis, was driving her Motability Citroen C3, which the court was told was an automatic.
Inside the car were her father, mother and two pet dogs.
Carrie MacFarlane, prosecuting, said: "It's understood Mrs Milroy's foot slipped and fully depressed the accelerator pedal, causing her to lose control of the vehicle."
Milroy's car shot out of its space and first struck pedestrian Gordon McKinnon, 60, who was thrown against the window of the garden centre.
CCTV footage
The Citroen continued speeding backwards in a wide arc and then hit Mr and Mrs Hall who had been crossing the car park.
CCTV footage played in court showed Mr Hall being struck by the car and thrown to the ground, where he struck his head and lay motionless.
The Citroen hit two other parked cars and came to a halt with Mrs Hall trapped under the front.
Exhaust gases showed the accelerator was still on and Milroy was heard shouting: "My foot stuck".
Ms MacFarlane added: "Witnesses were screaming about Mrs Hall being under the vehicle. The fire service and ambulance crews couldn't treat her due to the presence of other vehicles."
Milroy was taken from her car by paramedics and placed in a wheelchair.
Mrs Hall was pronounced dead at the scene. A post-mortem examination revealed major injuries to her head and neck, and crushing to the chest.
Her husband was taken to Crosshouse Hospital then transferred to Glasgow Southern General.
He suffered swelling to the brain, broken bones, a thumb severed to the bone and is still in pain and undergoing psychological treatment.
Milroy, of Darvel, had her driving licence revoked by the DVLA the month after the tragedy.
'Joke' sentence
A medical expert ruled Milroy's multiple sclerosis played no part in the accident and she was "medically fit to drive should she reapply for a licence".
Outside court, Mr Hall, a retired prison officer, described the sentence as "a joke", adding: "She killed one person, nearly killed me and another chap was injured.
"Even a token gesture with a fine would have meant more than 300 hours work and a five-year ban.
"It's destroyed the whole family and for the other couple - they're shattered as well."
He added: "It was a kick in the teeth after waiting two and a half years."