State hospital staff sickness causes £200,000 overspend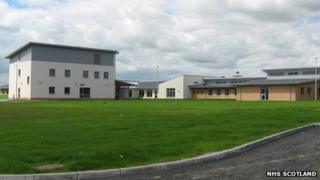 The State Hospital at Carstairs has overspent by £200,000 in one month to cover some of the highest staff sickness of any NHS area in Scotland.
The extra cash was spent mostly on overtime payments during April, which also saw extra cover required for staff holidays over Easter.
Management are now considering savings measures to balance the budget.
The facility in South Lanarkshire provides high security mental health care for up to 144 patients.
The NHS in Scotland has 14 regional health boards and seven special boards which cover a range of services such as NHS24 and the Scottish Ambulance Service.
The State Hospital is one of these specialist boards.
A spokeswoman for the hospital said: "Sickness levels in the hospital are much higher than the average for NHS Scotland.
"Management and Trade Unions are working closely together to understand why this is happening, and to introduce improvements.
'Care and security'
"To ensure we maintain care and security, when someone is sick their shift is filled, often through overtime. April 2014 was a particularly difficult month with very high sickness levels and the impact of the Easter holidays.
"Like all health boards, the State Hospital's budget is increased each year by the government. However, in April we overspent our monthly budget, almost wholly because of very high overtime levels, by £200,000."
A £90m programme to rebuild the hospital was completed in 2012.
The updated facility can accommodate up to 144 patients and has four groups of three 12-bedded wards with each group integrated into a hub area.
Since the start of 2014 patient numbers have rarely exceeded 130.
It is currently treating 129 patients, eight of whom are ready to move to care in medium rather than high security settings.
The spokeswoman added: "We are pursuing a wide range of ways of bringing spending back into line with budget, including reducing office space and taking savings from non-clinical services.
"Our hubs, and within them wards, remain open and available for use in the flexible ways they were designed for and we maintain our absolute commitment to admit anyone assessed as needing our care."