Glasgow School of Art pledge to 'bring back' Mackintosh building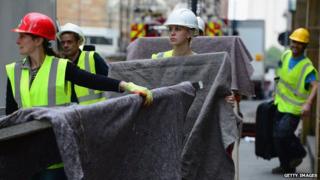 Glasgow School of Art (GSA) has pledged to "bring back" the Mackintosh building after a fire two weeks ago left the iconic structure badly damaged.
In an emotional open letter of thanks to those who helped in the aftermath of the fire, the governors said their first priority was to help students.
They add: "Rest assured we will do everything we can to bring back The Mack, and we'll do it together."
A restoration fund has already drawn millions of pounds in pledges.
The letter, signed by all members of the board of governors, makes clear the heartache felt by everyone at the art school following the fire on 23 May.
About 200 firefighters were involved in tackling the blaze at its height.
Public comfort
They managed to salvage 90% of the structure of the A-listed building and save up to 70% of its contents.
The letter states that the fire "broke our hearts and scoured our souls".
It continues: "Given what the building and its contents mean to us all, and that it was packed with precious, irreplaceable work by our graduating students, then that reaction is one that would be expected.
"What wasn't anticipated was that the city would start to arrive, not as rubber necking tourists, but as our fellow citizens as much in love with 'The Mack' as we are, who'd come in their hundreds to express their own anguish, and to do whatever they could to comfort students, staff and each other."
The letter says the kindness which followed the fire was overwhelming.
"From offers of help and support from around the globe, to strangers in the street trying to press money into the hands of distressed GSA representatives, even to the staff in the local bakery giving out free sausage rolls, we have been overwhelmed by the variety, depth and sincerity of public reaction," the letter states.
The governors described supporters in government and the wider education sector as "absolute pillars of support".
They also thank "the incredible firefighters who battled courageously, tirelessly and brilliantly day and night to save what they could".
The letter ends by saying that everyone at GSA has been touched deeply by the "kindness, support, the outpouring of affection and respect" shown.
It ends: "So, from every single one of us at GSA we thank you from the bottom of our hearts for everything you've said, and everything you've done. Consider yourselves family."