Warning over laughing gas theft from Hairmyres Hospital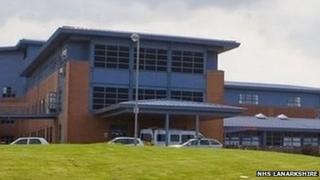 Police are investigating the theft of four cylinders of nitrous oxide - commonly known as laughing gas - from Hairmyres Hospital in East Kilbride.
Two men drove off with the cylinders after forcing entry to a store area at the hospital at about 10:35 on Monday.
Health officials said the gas was known to be used illegally as a recreational drug but improper use could be fatal.
Misuse of the drug could also lead to stroke, seizures, hallucinations, blackouts and incontinence.
The two men who stole the gas cylinders made off in a dark estate car, possibly an Audi. There are no descriptions of the suspects at this time.
PC Matt McCabe, of Police Scotland, said: "Extensive inquiries are continuing to trace the two men responsible for this theft, and I would ask anyone who saw two men acting suspiciously or anyone near to ward 18 on Monday 26 May to contact East Kilbride Police Office on 101."
'Dangerous substance'
An NHS Lanarkshire spokesman said: "Nitrous oxide or N2O, commonly known as laughing gas, has been known to be used illegally as a recreational drug.
"However nitrous oxide can be a dangerous substance if it is misused or consumed without medical supervision. It dissolves in the bloodstream, depleting the blood of oxygen, and reduces the flow of oxygen to the brain and vital organs.
"Overdoses can be fatal. It can also cause a stroke or produce side effects including hallucinations, seizures, blackouts and incontinence."
The spokesman added: "We would strongly advise anyone who is offered this gas, or indeed any other gas, not to inhale it as there is no way of knowing what the effects will be. We would also ask anyone who is offered gas to contact the police."