A&E patients spent night on trolleys at Glasgow hospital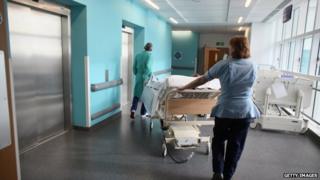 Patients who had to spend a night on trolleys at a Glasgow hospital A&E have received letters of apology, BBC Scotland has learned.
Several people at the Victoria Infirmary were left on trolleys on Monday night.
Health board managers said there had been an "unprecedented surge in demand" at several hospitals in the city.
A total of 17 planned operations were cancelled and 50 patients were found care home placements to free up beds.
The BBC has been told the Victoria Infirmary even ran out of blankets and pillows, after admissions increased by 24%.
NHS Greater Glasgow and Clyde said there had been shortages at times, but that linen had been provided from elsewhere in the hospital.
In a statement, it said that on Monday night the significant increase in activity was also experienced elsewhere in the city, leading to "a number of unacceptable lengths of stay" for some patients.
It said 15 referrals were sent to other Glasgow hospitals and 17 non-urgent procedures were postponed.
Chief executive Robert Calderwood said: "I would like to apologise to those patients who experienced lengthy delays over the past 48 hours.
"The demands that we have been experiencing are unprecedented for this time of year and I would like to pay tribute to my clinical colleagues in all our hospitals who have been working tirelessly to respond to this challenge.
"We have put in place a number of steps to alleviate some of these pressures and since yesterday afternoon have seen the situation improve."
Figures released last month showed that 93.5% of people in accident and emergency were treated within four hours in December 2013 - below the government's interim target of 95% but up from 90.3% in December 2012.