David Rostas cleared of raping woman in Glasgow lane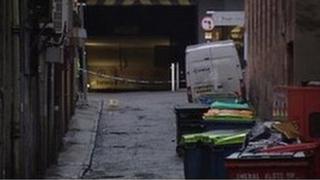 A man has been cleared of raping a woman in Glasgow city centre after lodging a special defence blaming two fellow Romanians for the crime.
David Rostas, 19, was found not guilty of sexually assaulting the 39-year-old woman in Renfrew Lane, near the Pavilion Theatre, on 11 February 2011.
One of the men he named, Emanuel Risti, 19, was jailed for seven years in 2013 for raping the woman.
The other - Risti's brother Roberto, 17 - had a not guilty plea accepted.
Roberto Risti gave evidence against both his brother and Mr Rostas.
Risti's victim had been out for a drink with friends when she was taken into a lane and brutally raped by two men.
Giving evidence, the 42-year-old from Glasgow said she heard her attackers speaking a foreign language.
More than 60 telephone calls were later made to Romania from her phone which she lost during her ordeal.