Elaine Doyle murder: 'Accused's DNA' found on body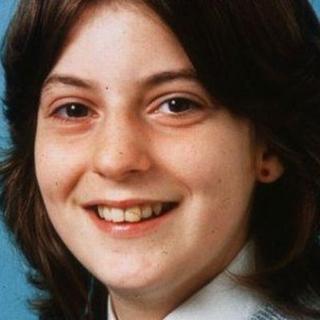 The Elaine Doyle murder trial has heard that DNA matching that of the accused was found on the 16-year-old's naked body but not on her clothes.
Forensic scientist Pauline McSorley said it was 560,000 times more likely that the DNA came from John Docherty than from any other unrelated male.
The 57-year-old agreed the DNA could have come from sweat or saliva droplets as a perpetrator strangled Elaine.
Mr Docherty denies murdering Elaine in Greenock in June 1986.
Mrs McSorley was giving evidence at the High Court in Edinburgh on the 28th anniversary of the Greenock teenager's death.
Forensic work
The forensic scientist described years of work on samples taken from the crime scene.
She and her colleagues examined tape which had been laid across Elaine's body in the hope of trapping hairs or fibres which might help track down her killer. She also tested the teenager's clothes for clues.
The court heard how some tiny traces matched the DNA of police who had handled clothing or the body, forensic scientists, and a member of the laboratory staff.
But two results could not be accounted for until Mr Docherty volunteered a sample of his DNA in May 2012 and gave another sample on March last year, when he was arrested and charged with the murder.
The trial heard that the DNA on Elaine's back was an exact match. DNA on the girl's face also matched Docherty's profile.
Mrs McSorley said it was 560,000 times more likely it came from the accused than any other unrelated male.
She told the trial that if the male DNA on Elaine's back had got there as she socialised at a disco in Greenock's Celtic Club or later in the town centre, she would have expected to recover DNA from the blouse - but did not.
Pathologist theory
Advocate depute John Scullion, prosecuting, said a pathologist had suggested Elaine was strangled from behind.
Mrs McSorley told him: "I would expect DNA on exposed areas closest to the perpetrator. That would be the back, for example."
The prosecutor asked if that person exerted himself physically in order to strangle the girl, could that explain the findings.
"In my opinion it could. It could result in small droplets of saliva being deposited," replied Mrs McSorley.
Sweat could also result in skin cells being deposited, she added.
Questioned by defence QC Donald Findlay, the forensic scientist agreed Elaine's own DNA had not been found on her tights and she suggested they might have been left lying in a way which had degraded the DNA over the years.
'Degraded DNA'
"Just as John Docherty's could have been on her clothing and degraded over the years," said Mr Findlay.
The trial saw again a police video made at the crime scene which showed CID officers whose DNA was found apparently nowhere near the part of Elaine's body where their profiles were detected.
Forensic scientists' DNA was also recovered from clothing which bore no traces of Elaine's DNA.
Mr Docherty, 49, now of Hunters' Quay, Holiday Village, Dunoon, denies murder and claims that at the time he is alleged to have stripped and strangled Elaine Doyle, he was with his parents - who are no longer alive - at their home in Anne Street.
He has also lodged a defence of incrimination, claiming the killer might be among a list of 41 names taken from files of the police investigation.
The trial continues.