French Mirage 2000 fighter jets in near miss off Islay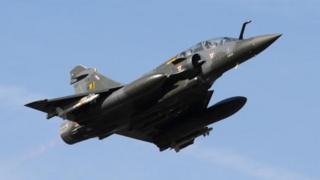 Two French fighter jets were involved in a near miss with a civilian aircraft in Scottish airspace, it has emerged.
The Mirage 2000 jets passed within a few hundred feet of a BN2T Defender which was on a navigation exercise.
The incident happened to the northeast of Islay on 10 October 2013.
The UK Airprox Board, which probes near misses, blamed "a non-sighting by the Mirage 2000 crews". It classed the miss as "B", meaning "the safety of the aircraft may have been compromised".
At the time of the near miss, the Mirage aircraft were operating from RAF Leeming in North Yorkshire
They were taking part in "Joint Warrior" a UK multinational military exercise involving warships, aircraft and troops.
The miss was reported by the pilot of the BN2T Defender after he was alerted to the presence of the jets by on on-board traffic collision avoidance system.
The jet pilots did not report seeing any other aircraft.