Elaine Doyle murder: Witness saw man 'following' girl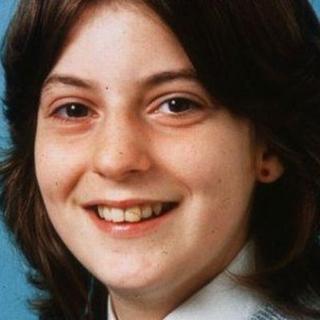 A witness has told the Elaine Doyle murder trial he saw a man who appeared to be following a girl near the victim's home on the night she died.
Martin Brown, 52, told the High Court in Edinburgh that the man "seemed to be walking faster as if he was trying to catch up" with the girl in Greenock.
The court also heard that Mr brown told police in a statement in 1996 that the girl was Elaine.
Another man, John Docherty, 49, denies killing Elaine, 16, in June 1986.
The jury heard it was the day of the first matches in the 1986 Mexico World Cup and Mr Brown, who had moved to London, had returned to Greenock to visit his parents.
He was at a friend's in the town's Brisbane Street and later walked back to his parents' home just after midnight to watch the second half of the France v Canada match.
His route took him to Ardgowan Street and Ardgowan Square.
He saw a girl he thought to be in her 20s walking and then saw a man walking behind her.
"I glanced up the second time and that is when I saw someone walking behind her. He seemed to be walking faster as if he was trying to catch up," Mr Brown told the court.
He thought they might be a couple, but heard no conversation between them.
'Big eyes'
Advocate depute John Scullion, prosecuting, asked Mr Brown what the man was wearing.
"Dark clothing, I remember," answered Mr Brown. He saw his face "for a split second," he added.
"I thought he was staring at the girl he was with."
Mr Brown said the man had "big eyes" and continued: "There was something strange-looking that made me want to look away and go home.
"It was Greenock, late at night, and if someone has an angry expression on their face, you don't need to know."
Mr Scullion asked if the man had an angry expression and Mr Brown told him: "In retrospect, yes."
The following day he went to Glasgow and saw news of the Elaine Doyle murder, which had happened near his parents' home.
On his return he went to the police incident caravan parked near the crime scene to tell what he had seen.
Mr Brown told the trial he thought police would trace the couple, eliminate them from the inquiry and they, in turn, would eliminate him.
He was planning to return to London the following day and did not want it to appear suspicious.
Over the years Mr Brown was questioned by police a number of times about the sighting, the trial heard.
In September 2012 detectives showed him 12 photos, which he described as "mug shots".
Colour blind
They laid the black and white prints on his table and he studied them.
Finally, said Mr Brown, he was able to eliminate all but three of the photos and there was one he thought similar to the person he had passed in the street in June 1986.
The trial heard that Mr Brown also told police then that the man he saw had auburn or ginger hair - but later changed his mind. He told the trial he was colour blind.
Questioned by defence QC Donald Findlay, Mr Brown agreed that the man would have caught up with the woman in a second or two.
Mr Findlay asked: "If he grabbed her and some kind of struggle ensued, you would have heard this?" Mr Brown: "I would have heard her, I would have heard something."
He told Mr Findlay: "I heard nobody."
The trial heard that 10 years after the incident, Mr Brown told interviewing detectives the girl he had seen was Elaine.
"Although at the time I could not match her with the photo originally displayed in the newspapers, I was shown more recent photos of her by CID officers during the inquiry and it was definitely the girl I saw that night," read a statement from February 1996.
Mr Findlay pointed out that much of the description Mr Brown had given of the girl he saw did not match Elaine.
Mr Docherty, now of Dunoon, denies murder and claims that at the time he is alleged to have strangled Elaine, he was with his parents - who are no longer alive - at their home.
His defence team has lodged a special defence of incrimination, claiming the culprit might be among a list of 41 names taken from files of the police investigation into the murder.
The trial continues.