Mark Millar sends Detroit-set protest comic to Obama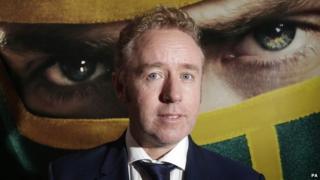 Scots comic book writer Mark Millar has sent copies of his latest work to US president Barack Obama to highlight the plight of America's "forgotten cities".
Millar made his name writing for Marvel Comics and created Kick-Ass, a graphic novel that was made into two films.
His new comic MPH tells the story of four Detroit street kids who find a drug that gives them superhuman speed.
They use their powers to "take down the bankers, corporations and the crooked politicians" who wrecked Detroit.
Millar, from Coatbridge in Lanarkshire, says the superheroes fight against the people who "sold Detroit down the river for three successive generations".
Last year, Detroit became the largest US city ever to file for bankruptcy, with $18bn (£12bn) of debt.
Detroit, once a symbol of US industrial power, has faced decades of decline and last summer public services were on the verge of collapse and about 70,000 properties lay abandoned.
Illustrated by Duncan Fegredo, whose other work includes the Hellboy comics, copies of MPH have also been sent to all US senators.
Millar told The Spectator magazine: "Superheroes have been my bread and butter my entire adult life and with superheroes comes a natural love of both America and Americana."
However, he said a trip to Detroit as part of a book signing tour had a "profound" effect on him.
He said the news that one of America's biggest cities had filed for bankruptcy was shocking but "nothing compares to standing there and looking at it with your own eyes".
The writer said: "How could the richest country in the world allow so many of its people to live in such abject poverty?"
Millar said Detroit needed superheroes but not the traditional ones like super-rich playboy Bruce Wayne in Batman, or billionaire weapons dealer Tony Stark in Iron Man.
He said: "Sometimes I wonder if it's political sleight-of-hand to write about threats to Gotham City or Metropolis when we should be writing about those bad guys in the real world who look an awful lot like Bruce Wayne."
The writer added: "Is it a crime if a superhero puts food on the table for people who have nothing?
"Four superheroes taking down the bankers couldn't be more different than Superman or Batman, who sometimes look the other way when the real villains are operating.
"These are the good guys America needs right now."
Millar said he had put his "heart and soul" into the comic book and Lorenzo di Bonaventura, the producer on three Transformers movies, was planning to turn it into a Hollywood film.
As well as comic books, Millar worked on 2008 movie Wanted starring Angelina Jolie and James McAvoy; 2010's Kick-Ass starring Nicholas Cage and Chloe Grace Moretz; and last year's Kick-Ass 2 featuring Jim Carrey.
Millar's next film is Kingsmen: The Secret Service, which will star Colin Firth and Samuel L Jackson.