Elaine Doyle murder: Claim over conflicting evidence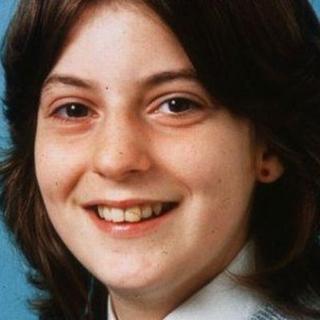 A retired detective has told the Elaine Doyle murder trial that he did not give conflicting accounts about a blanket at the crime scene.
William Clark, 77, told the High Court in Edinburgh that Elaine had been covered with a blanket to protect her naked body from curious onlookers.
Referring to a statement from 2012, in which he said no blanket was covering Elaine, he said: "I never said that".
John Docherty, 49, denies killing Elaine, 16, in Greenock in 1986.
The court heard that Mr Clark had left the former Strathclyde force after 30 years service with the rank of detective chief inspector.
In court he was shown statements bearing his name.
Blanket 'confusion'
Mr Clark told the trial that when he arrived at the lane off Ardgowan Street, Greenock, on the morning of 2 June 1986, Elaine had been covered with a blanket.
The jury have heard that Mr Clark said much the same when questioned in 2009 - after his retirement.
Then, in June 2012 another detective visited Mr Clark at his home to be told: "There is confusion about the blanket in the last statement."
In that statement, Mr Clark said: "I am certain that when I arrived at the crime scene there was no blanket over the body of Elaine Doyle."
Giving evidence, Mr Clark told advocate depute John Scullion, prosecuting: "I never said that. I know my signature is there but that totally contradicts everything that happened."
Mr Clark also disputed the suggestion there had been a "heated discussion" between himself and other senior detectives.
He said he knew that the placing of a blanket over the body would make forensic examination "pointless" but kept his opinion to himself.
The trial also heard that towards the end of 1986 Mr Clark produced a 21-page report, updating prosecutors on how the investigation had been conducted up to that point.
'An oversight'
When told that there was no mention of the blanket question in the report, Mr Clark said this was "an oversight".
The report did give some indication of the massive police operation which began with the discovery of Elaine's body.
Police believed they were looking for a sex killer, possibly a dog walker who had used a dog lead to strangle the teenager.
The opening games of the Mexico World Cup had brought men onto the streets to exercise their pets later than usual, said Mr Clark.
Door-to-door inquiries took in 22 major streets and taxi drivers who may have seen something were questioned.
Police tried to trace every male over the age of 12 who had been out after midnight.
By the time the 1986 report was written, almost 50 officers had logged more than 46,000 hours working on the inquiry.
Mr Docherty, now of Dunoon, denies murder and claims that at the time he is alleged to have strangled Elaine, he was with his parents - who are no longer alive - at their home.
His defence team has lodged a special defence of incrimination, claiming the culprit might be among a list of 41 names taken from files of the police investigation into the murder.
The trial continues.