Cruise liner Saga Sapphire resumes voyage after fire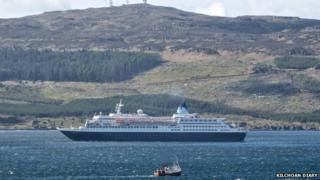 A cruise liner stranded off the west coast of Scotland with 1,008 passengers and crew on board has resumed its voyage.
The Saga Sapphire anchored off the Isle of Mull after an electrical fire on Friday left it without power.
The ship's own crew dealt with the problem and there were no reports of injuries.
Saga Holidays said the ship had now sailed for Dover following repairs and should arrive there on Monday.