Electrical fire strands liner Saga Sapphire off Isle of Mull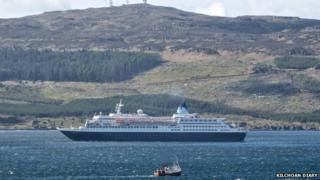 A cruise liner with 1,008 passengers and crew on board is stranded off the Isle of Mull after an electrical fire.
An emergency was declared on the Saga Sapphire when the fire broke out at about 10:00 on Friday, knocking out the ship's power supply.
Coastguard crews provided support while the ship's own crew dealt with the problem.
The liner was expected to resume its voyage on Saturday following repairs. There were no reports of injuries.
Saga Holidays UK tweeted: "The ship is currently anchored, in fine weather, off the Isle of Mull whilst the damaged electrical panel is repaired and tested.
"Our priority is always to make sure our passengers and crew are safe and well."