Saved marine station on the Isle of Cumbrae reopens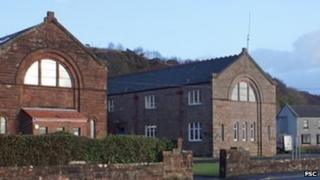 A closure-threatened scientific research centre on the Isle of Cumbrae has been officially re-opened after it transferred to a new owner.
The site, in the Firth of Clyde, was previously known as The University Marine Biological Station Millport.
It closed in October 2013 after funding was withdrawn by previous owner, the University of London, in December 2012.
The centre is now run by environmental education charity Field Studies Council (FSC), and is known as FSC Millport.
The centre was officially re-opened on Friday by Education Secretary Michael Russell.
He said: "Since the announcement of the closure in 2012, all of the partners - The Field Studies Council, North Ayrshire Council, Highlands and Islands Enterprise and the Scottish Funding Council - have worked tirelessly with us to ensure that this invaluable educational and research facility was not lost.
'Unique activities'
He added: "Generations of school and university students have been taught at this facility and it is heartening that this excellent work will continue so that many more people can experience the residential classes and unique outdoor activities provided here."
Over the next five years, the new owner plans to refurbish FSC Millport, with the aim of making it the UK's "premiere marine teaching location".
Robert Lucas, FSC chief executive, said: "The investment in Millport ensures a new and sustainable future for the centre, building on its international reputation for marine science field teaching.
"We will be using all of our experience to provide exciting outdoor learning opportunities for people of all ages.
"The centre is also ideally located to act as a base for research on the Clyde Basin, and later this year will be hosting a research seminar."