Glasgow 2014: New plans for Games ticket sales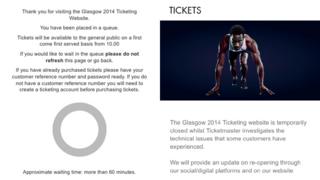 Plans to re-launch sales of extra tickets for the Commonwealth Games will be announced on Friday after problems halted an attempt earlier this week.
Games organiser Glasgow 2014 and ticketing firm Ticketmaster have been trying to resolve the issues which saw sales suspended on Tuesday night.
The development came after officials met Sport Minister Shona Robison amid widespread criticism of the fiasco.
It is likely that the re-launch of sales will not happen until next week.
Problems arose almost immediately when 100,000 extra tickets for all 17 sports went on sale at 10:00 on Monday.
'Unreserved apology'
Online sales were temporarily suspended in the early hours of Tuesday morning after numerous complaints about long delays and problems with finalising transactions.
A second day of problems resulted in Glasgow 2014 suspending online and phoneline sales at 18:00 on Tuesday with just over 60,000 of the tickets sold.
Glasgow 2014 chief executive David Grevemberg offered an "unreserved apology" and said the problems were unacceptable.
The issue was raised in the Scottish Parliament on Thursday amid widespread criticism of the ticketing problems.
During First Minister's Questions, Alex Salmond said the problems were a matter of "great regret and frustration".
Scottish Conservative leader, Ruth Davidson, said the episode had been "shambolic".
Sports Minister Shona Robison met with Glasgow 2014 officials on Thursday, after which she said an announcement on the resumption of ticket sales was close.
'Substantial demand'
Ms Robison said: "During the discussions, the Ticketmaster chairman Chris Edmonds provided reassurance his company is making every effort to fully investigate and resolve the problems so that when re-launched, the website can cope with the substantial demand and enthusiasm for tickets.
"All our efforts are focused on getting the site up and running, to ensure thousands more people can buy tickets and can begin to look forward to experiencing the excitement of the Games.
"Glasgow 2014 will announce plans for the re-launch of ticket sales within 24 hours and I will remain in close contact with Glasgow 2014 and Ticketmaster until this issue is resolved."
Mr Grevemberg added: "We're pleased to have met with the cabinet secretary this morning to give her a full update on the progress being made in getting tickets back on sale to the public.
"This was a constructive and positive meeting where we outlined the options and testing required to ensure we can put tickets back on sale with confidence.
"Our priority is ensuring the experience of securing tickets for the Commonwealth Games is a positive one for all our customers and we look forward to sharing our plans tomorrow."
BBC Scotland understands that it is likely that any re-launch will not take place until next week.
The latest development came as Glasgow 2014 was forced to address financial fallout from the ticketing fiasco.
It emerged that some people who dialled the phoneline and encountered an engaged tone were still charged.
It has been reported that some people faced charges of more than £100.
A spokesman for Glasgow 2014 said: "Glasgow 2014 can confirm that some callers to the Glasgow 2014 ticket line who received an engaged tone on the ticketing phonelines were charged in error by Talk Talk Business, a supplier of Ticketmaster.
"We apologise unreservedly for this and are working now with Ticketmaster and Talk Talk Business to ensure customers affected by this are refunded these charges as soon as possible."
A Talk Talk Business spokesman added: "We would stress that this issue did not affect all callers to the ticket line and we sincerely apologise for the inconvenience this has caused. We will work with Ticketmaster to urgently compensate all customers affected by this error."
Customers who think they may be eligible for a refund were told they could email a scan or photograph of their bill, showing the dialled number and call charges, to the firm.
Virgin Media has said it was looking to find out if any of its customers had been affected.