Glasgow 2014: Tickets 'fiasco' may take days to fix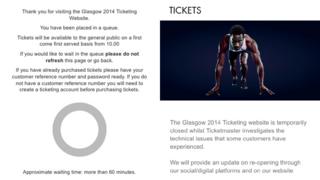 Ongoing problems with online ticket sales for the 2014 Commonwealth Games in Glasgow may take "days" to resolve, the organiser has said.
Glasgow 2014 is reviewing problems with ticketing provider Ticketmaster.
A Games spokeswoman said they would be "in a position in coming days" to advise when ticket sales can resume.
Online and telephone sales for 100,000 extra tickets released on Monday were halted at 18:00 on Tuesday amid long delays and problems with transactions.
The spokeswoman said: "Glasgow 2014 and its official ticketing provider Ticketmaster are today urgently reviewing the performance of the ticketing website with the aim of resolving the issues experienced by some of our customers.
'Absolute priority'
"Once this review is complete and any measures have been implemented and tested we will be in a position in coming days to advise when ticket sales will be back up and running.
"It is our absolute priority to be able to meet, as soon as possible, the enthusiasm and demand that sports fans have shown for the final sprint for tickets and we thank all of our supporters and customers for their patience."
Earlier, Ticketmaster said it hoped to have the online site for ticket sales up and running "very soon".
Chris Edmonds, chairman of Ticketmaster UK, said: "We are undertaking an urgent review to enhance the performance of the website and improve the customer experience and we are confident the ticketing site will reopen very soon.
"We would like to thank customers for their patience and understanding."
An extra 100,000 tickets across all 17 sports and the opening and closing ceremonies went on sale on Monday.
Technical failure
But problems quickly developed with people facing long delays and issues with finalising transactions.
The site was initially closed for an hour on Tuesday morning to allow technicians to investigate the problem but they failed to resolve it.
That resulted in a second day of delays and frustrations for sports fans hoping to secure tickets for the Games.
Online and telephone sales were halted at 18:00 on Tuesday amid long delays and problems with transactions.
That led to Glasgow 2014 chief executive David Grevemberg offering an "unreserved apology" to those affected.
He added: "We will only reopen the site once Ticketmaster is confident that the issues with the website have been resolved."
First Minister Alex Salmond said the ticketing problem had caused "huge frustration" and had to be "sorted out as quickly as possible".
Mr Salmond told the BBC it was a "fair assumption" that he had contacted organisers to urge them to find a solution.
And he said that in some ways Glasgow 2014 was a victim of its own success because of the huge demand for the remaining tickets.
So far, about 60,000 of the extra tickets released have been sold.
Glasgow 2014 said diving, swimming, mountain biking, track cycling and the triathlon had all sold out.
Tickets remain unsold for other sports, as well as for the opening and closing ceremonies.
About 2.3 million applications were made for the initial one million tickets released last year, with athletics, aquatics and cycling proving the most popular events.