Elaine Doyle murder: Witness admits lying for partner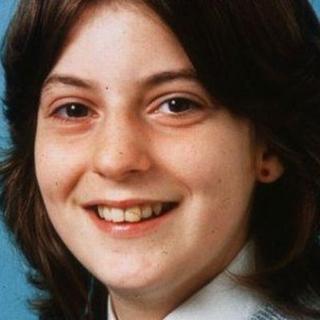 The Elaine Doyle murder trial has heard that a woman told police her abusive partner forced her to lie about where he was when the 16-year-old was killed.
Linda Scott, 53, told the High Court in Edinburgh that she finally came forward after a Crimewatch television programme 25 years after the 1986 murder.
Her former partner James McKay is alleged to have been worried police might "fit him up" for killing Elaine.
Another man, John Docherty, 49, denies killing Elaine.
His defence team has produced a list of 41 others - including Mr McKay - who may be responsible.
Bingo win
Mrs Scott said that back in 1986 she told the murder inquiry that Mr McKay was with her in her home in Maple Road, Greenock, on the night of 1 June - knowing it was not true.
Mrs Scott had been out with a friend that night and got drunk after winning £100 at bingo.
She told the trial that Mr McKay insisted he had nothing to do with the death of Elaine.
She thought he might have been out looking for houses to break into. She said she lied because she was terrified of Mr McKay who she said seemed to get a sexual kick out of violence.
Elaine's naked body was found close to her home in Ardgowan Street, Greenock, early on 2 June 1986. She had been strangled.
Called as a witness, Mr McKay, 48, said in 1986 he would steal cash and jewellery, using a bike to make his getaway.
He is presently serving a sentence for a drugs offence.
'Bit on the side'
Asked why he wanted a false alibi he said: "I think I was house-breaking at the time."
Police came to his door and he did not know why. He was also two-timing the woman he referred to as his partner with Mrs Scott, who he described as "a bit on the side".
He told the trial he did not know what he was doing the night Elaine died. "I cannot remember. You are asking me to remember 27 years ago. I cannot remember 27 years ago."
Asked what he thought about the suggestion he had killed Elaine. Mr McKay replied: "You are very wrong."
He added: "You have DNA. You have my DNA on record."
Shown a police artist's sketch of a red-haired suspect, drawn in 1986, Mr McKay, who had red hair at the time, laughed: "Is that supposed to be me."
Mr Docherty, now of Hunters' Quay, Holiday Village, Dunoon, denies murder and claims that at the time he is alleged to have strangled Elaine, he was with his parents - who are no longer alive - at their home in Anne Street.
The trial continues.