Scott Johnston admits raping woman in Mount Florida flat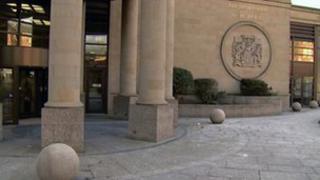 A teenager is facing a lengthy prison sentence after he admitted forcing his way into a 51-year-old woman's flat in Glasgow and raping her.
Scott Johnston, 19, from East Kilbride, forced his victim to the ground, pinned her down, repeatedly hit her with an iron and raped her on 8 December 2013.
Johnston was caught when his employer alerted police after they issued a detailed description of the attacker.
Sentence on Johnston was deferred at the High Court in Glasgow.
The court heard how Johnston encountered the woman as she walked past Hampden Stadium where he had been attending a Christmas party.
He then followed her to her flat where he forced his way inside and raped her.
Concerned friend
A friend of the woman, who spotted Johnston talking to her as she walked along the street, was so worried that he dialled 999.
However, when he saw the woman enter her close and Johnston take a different route he phoned back to say she was in her house safe and well.
Minutes later the friend walked past her flat again and saw someone entering the close. It was only later he realised it was probably Johnston.
The court was told that the victim, who cannot be named for legal reasons, had been out for the night drinking, singing karaoke and dancing with a friend in a bar in nearby Kings Park.
She left there about midnight and decided to walk home.
Advocate depute Kath Harper, prosecuting, told the court: "She does not remember leaving the pub or how she got home."
Ms Harper added: "After being in the Beechwood Bar the next thing the woman remembers is being in her living room lying face down on the floor.
"Her head was being held down by someone behind her and she could not move.
"She struggled and when she tried to turn her head she was punched on the side of the face."
Attacker 'enraged'
The 51-year-old reached out for an iron which was on the floor next to her and swung it. She believes she hit Johnston with it.
She saw him stumble backwards and a comb fall out of his pocket.
Ms Harper said: "She describes the accused as enraged at this point. He took hold of the iron and struck her with it. Blood started to run from her head.
"The next thing she remembers is lying on the floor. Fearing for her life she played dead. She was then raped.
"She can't be sure if she remained conscious throughout the attack and has no sense of how long it lasted.
"She remembers hearing the close door shut and realised her attacker had gone."
The court heard that the woman suffered bruising to her face. The right side of her face was swollen and her right eye closed over. Her hair was matted with blood and the iron had blood on it.
Following the attack, police released a detailed description of the attacker.
After reading it Johnston's employer contacted them.
Forensic experts later found DNA matching Johnston's on the victim's clothes and on the comb he had dropped.
Judge Lady Rae deferred sentence on Johnston until June at the High Court in Glasgow.