Linsey Cotton charged with fraud in hotel deaths case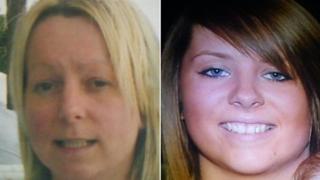 A woman has appeared in court charged with alleged fraud following the deaths of a mother and daughter in Greenock.
Nicola McDonough, 23, and her mother Margaret, 52, died after being found injured at the Premier Inn last year.
Linsey Cotton is accused of fraudulent, reckless and culpable conduct, and attempting to pervert the course of justice in relation to the case.
The 31-year-old made no plea or declaration at Paisley Sheriff Court and was released on bail.
The case against her was continued for further investigation.
Margaret McDonough, who was discovered in a bedroom at the hotel on 10 May 2013, died later that day.
Her daughter, a social work student, was found in the hotel hallway and died in hospital three days later.