Hundreds commemorate Stockline victims 10 years after explosion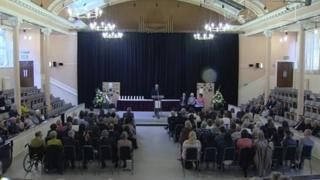 Hundreds have gathered at a memorial service to remember those killed in an explosion at a Glasgow factory in 2004.
Nine people died in the blast at the Stockline plastics factory in Maryhill and 33 others were badly injured.
A build-up of leaking gas from corroded underground pipes was to blame for the disaster, which provoked a countrywide pipe replacement programme.
Victims' families, politicians, members of the local community and emergency services attended the service.
It was held in Maryhill Community Central Halls, close to the former factory site.
There were readings from Rev Paul McEwan, Brian Sweeney, former chief officer of Strathclyde Fire and Rescue Service, Father Euan Marley and local MSP Patricia Ferguson.
Mr Sweeney paid tribute to the community spirit shown by Maryhill at the time of the incident and in the years that followed.
He said the fact that the community had been "willing to do everything and anything that it could was a source of great inspiration".
"May 11, 2004 brought such terrible tragedy to our community," he said.
"Four days of grief, shock, effort, pain, pride and humanity. A city coming together. Now, as we did then, we stand shoulder to shoulder with the city."
Rev McEwan, who served in Maryhill at the time of the tragedy, said: "Our scars are an important part of who we are and they remind us of what we have gone through and survived.
"Our scars will always be with us but they don't define us. We never forget but we can move on."
His words were followed by a recital of the Seamus Heaney poem Funeral Rites and a reading of The Glory Of Life Is Love.
Singer Cathy Peattie led a rendition of the Beatles song Let It Be, before family members were invited forward to light a candle for each person who died.