Nigeria abductions: Glasgow 'Bring Back Our Girls' protest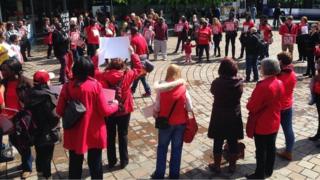 A protest has been held in Glasgow calling for the return of more than 200 girls who were abducted from their school in Nigeria.
About 200 people attended the event in St Enoch Square, which is part of the larger 'Bring Back Our Girls' campaign.
Security forces are still searching for the students, who were abducted by Boko Haram Islamist militants on 14 April.
The group condemns those who have been educated in the "Western" system, and opposes the education of women.
The Boko Haram insurgency has left thousands dead since 2009.
The missing girls, from the town of Chibok in north eastern Nigeria, are in their final year of school, and most of them are aged 16 to 18.
They are thought to be held in the Sambisa forest, a remote and inaccessible area of country.
Josephine Adekola, a representative of the Nigerian community in Glasgow, said: "Every Nigerian across the world, wherever they are, feels frustration and anger about this.
"There's real concern and anxiety about Boko Haram and we want our government to stand up and do something about it.
"We're sending a message to Nigerians that people here are concerned and we want the mothers who are going through this grief to understand that we feel their pain.
"We want answers from the Nigerian government and we want our girls back."
Event organiser Megan Mitchell told BBC Scotland: "We want to raise awareness on this issue and we won't be silent. We're a month down the line from these girls going missing and there's been inaction from governments, charities, the media and international community.
"We're calling on people to write to their MSPs, their MPs, local government and charities and make their voices heard.
"If ordinary people are taking to the streets and saying this is an important issue, governments and international organisations will listen."