Woman arrested in Greenock hotel deaths 'fraud' inquiry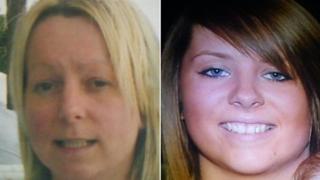 A woman has been arrested in connection with alleged fraud after the deaths of a mother and daughter in Greenock.
Nicola McDonough, 23, and her mother Margaret, 52, died after being found injured at the Premier Inn last year.
Police Scotland said a 31-year-old was in custody in connection with alleged fraud, alleged culpable and reckless conduct and an alleged attempt to defeat the ends of justice.
The woman is expected to appear at Paisley Sheriff Court on Monday.
Margaret, who was discovered in a bedroom at the hotel on 10 May 2013, died later that day.
Her daughter, a social work student, was found in the hotel hallway and died in hospital three days later.