Elaine Doyle murder: Trial told of crime scene 'guess'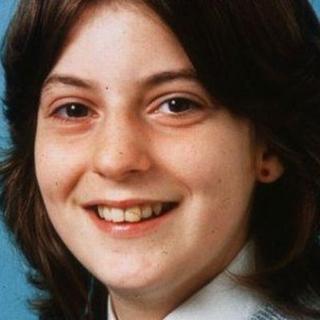 The Elaine Doyle murder trial has heard that a witness boasted he had killed the 16-year-old and made a "remarkable guess" about the crime scene.
Colin Dominick, 52, denied telling a friend that Elaine had been killed by a belt and a car aerial.
The High Court in Edinburgh heard that Mr Dominick is on a list of 41 possible suspects named by defence lawyers.
Another man, John Docherty, 49, denies killing Elaine in Greenock in 1986.
The court heard how Mr Dominick would borrow his father's blue Datsun Bluebird to drive around the streets. "I was a boy racer," he said.
According to police statements Mr Dominick would park in the town centre at weekends, watching girls coming out of pubs and clubs and making inappropriate remarks - a suggestion Mr Dominick strongly denied in the witness box.
Friend's claim
In one statement, a friend who often sat with Mr Dominick in the Bluebird told detectives: "He keeps on bringing up the subject of the murder and told me she had been killed by the use of a car aerial and a belt."
Defence QC Donald Findlay produced a list - compiled by police officers - of finds in the lane off Ardgowan Street where Elaine's body was found on 2 June 1986.
On the list was a car aerial which was in undergrowth behind the 16-year-old's head.
Mr Findlay suggested that if someone was thought to be strangled it was reasonable to think a belt or tie might be used.
"But it would be a remarkable guess if a car aerial had some part to play and - lo and behold - a car aerial was found."
Mr Dominick protested: "I don't know anything about a belt or a car aerial."
The trial also heard that Mr Dominick tried to make extra cash by scavenging from skips, put out by the local authority to collect large items of rubbish.
One regular site for skips was in the area of Ardgowan Street.
'All wrong'
The court was told that after Elaine's body was found, Mr Dominick's behaviour changed.
Mr Findlay asked if Mr Dominick remembered his friend asking why he was in such a hurry to get away from Ardgowan Square. "You said you didn't like the area," the lawyer said.
Mr Dominick told him: "That is all wrong."
The court also heard that Mr Dominick allegedly boasted that he had killed Elaine.
His friend told police later that he had just dismissed the claim, thinking that Mr Dominick was simply "acting big".
Mr Dominick of Greenock was brought to court as a witness in the trial of John Docherty - to find his name on a list of possible suspects which, Mr Docherty's defence team suggest, may include the real killer.
"I never knew the lassie in my life," he said. "The lassie could walk past me in the street and I wouldn't know her."
Mr Dominick also denied allegations, supposed to have been made by ex-girlfriends, that he had "stalked them" after the relationships had ended.
One woman is said to have complained that he parked his car outside her home late at night, repeatedly sounding the horn.
Another, said Mr Findlay, had been dragged into a shop doorway and punched.
Mr Dominick told the trial he had never hit a woman in his life and did not know why they should tell lies about him.
Mr Docherty, now of Hunters' Quay, Holiday Village, Dunoon, denies murder and claims that at the time he is alleged to have strangled Elaine, he was with his parents - who are no longer alive - at their home in Anne Street.
The trial continues.