Accidental gun incident in police station 'preventable'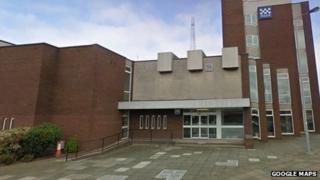 An investigation into the accidental firing of a gun inside a police station has concluded it was "preventable".
No-one was injured when the firearm was unintentionally discharged at Ayr Police Office on 23 March this year.
The Police Investigations and Review Commissioner heard the bullet hit a wall in the station's firearms room.
Professor John McNeill said "stringent" procedures had not been adhered to but recognised that police had since re-emphasized their safety rules.
The incident took place within a designated firearms room at Ayr Police Office shortly before 07:00.
Safety procedures
After the weapon was fired, the bullet struck a brick wall.
As part of his investigation, the commissioner interviewed the police officer responsible and reviewed witness statements, examined documentation, productions and command and control records.
Speaking about his findings, Prof McNeill said: "It is clear that Police Scotland's practice and procedures in respect of firearms safety are stringent and had they been rigorously adhered to, then this incident would not have occurred.
"I am pleased that Police Scotland has taken action to re-emphasise to all its firearms officers the importance of adherence to firearms safety procedures following this incident."