Elaine Doyle murder: Witness questioned over car 'tail'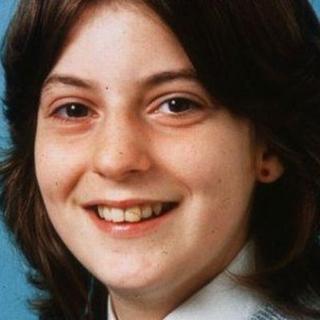 A witness has told the Elaine Doyle murder trial that it was "possible" he was driving a car which the teenager believed had followed her.
Donald McKirdy, 47, said he cruised the streets of Greenock in his father's car as a teenager and may have seen Elaine among "thousands of girls".
Mr McKirdy is on a list of 41 possible suspects named by defence lawyers.
Another man, John Docherty, 49, denies killing 16-year-old Elaine Doyle in Greenock in 1986.
The trial at the High Court in Edinburgh has heard that in the weeks before her death, Elaine told friends about a blue car trailing her.
At that time - in June 1986 - 19-year-old Mr McKirdy was a clerical assistant with Strathclyde Police and wore his dark brown hair in a fashionable collar-length perm.
Police questioning
He also liked to borrow the silver-blue Vauxhall Nova driven by his father, a retired police officer.
Giving evidence, Mr McKirdy said he would spend evenings cruising round the streets.
He denied he was a kerb-crawler, as described in a police statement of the time, in which he told officers he was looking for "a lumber".
The jury heard that Mr McKirdy was questioned by police in the days following the discovery of Elaine's body just yards from her home in Ardgowan Street.
He told them: "I do spend a lot of time just driving round the town in the evening, sometimes on my own, sometimes with my pals.
"I don't specifically go out to eye up girls but I do look at them when I am out, just like anyone would and I must have looked at thousands."
The teenage Mr McKirdy told the murder hunt officers he had never looked at Elaine Doyle, then re-considered: "I may have looked at her and because I don't know her I don't remember it, but I have seen her picture in the paper and I don't recognise her."
In court, Mr McKirdy, who now works at Greenock police office, agreed that he did know Elaine Doyle as someone who passed his then home, which was close to Ardgowan Street.
Defence QC Donald Findlay asked why he had lied to police years ago and Mr McKirdy told the lawyer: "I don't know."
Girl's complaint
Mr Findlay continued: "The person in the blue car was, in fact, you. You were the man in the blue car following Elaine Doyle, weren't you?"
"Not to my knowledge, no," replied Mr McKirdy but after further questioning he admitted it was "quite possible".
The trial heard that around the same time another girl had complained about a man with curly hair in a blue or green car stopping and asking her if she wanted a lift.
Mr McKirdy agreed that when not driving his father's blue Nova he would borrow his mother's car - which was green.
Advocate depute John Scullion, prosecuting, asked what he had to say to the suggestion that he had killed Elaine.
"When told by CID officers I was flabbergasted," Mr McKirdy replied, denying that he had killed the 16-year-old.
John Docherty, 49, now of Hunters' Quay, Holiday Village, Dunoon, denies murder and claims that at the time he is alleged to have strangled Elaine, he was with his parents - who are no longer alive - at their home in Anne Street.
Mr Docherty has also lodged a so-called special defence of incrimination claiming the culprit might be among a list of 41 names taken from files of the police investigation into the murder.
The trial continues.