Elaine Doyle murder: Killer witness halts murder trial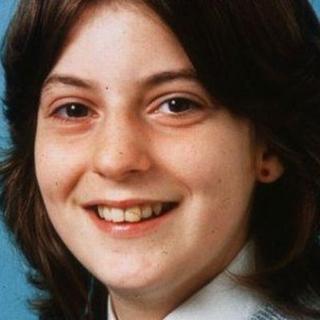 The Elaine Doyle murder trial was halted after a convicted killer clashed with defence QC Donald Findlay.
The lawyer questioned 45-year-old Brian Buckley, who is serving a life sentence, about him strangling his 25-year-old girlfriend in Wrexham, Wales.
Buckley was later surrounded by security officers as he tried to leave court and threatened to start fighting.
John Docherty, 49, denies killing Elaine in Greenock in 1986 and has named Mr Buckley as a possible suspect.
Mr Buckley is one of 41 names on a list of possible suspects for the murder of the teenager, who was found naked and strangled near her Greenock home more than 27 years ago.
Mr Findlay has claimed there are some similarities between the murders of Elaine and Mr Buckley's girlfriend, although the two killings were more than 20 years apart.
'No comment'
At the High Court in Edinburgh the lawyer was faced with a series of "no comment" replies as he asked Mr Buckley: "How did you strangle your girlfriend?" and "Why did you kill her?"
Mr Findlay challenged: "Why are you not prepared to tell the jury what kind of man you are?"
Mr Buckley responded by swearing at the QC before stepping down from the witness box.
As security officials blocked the courtroom exit, Mr Buckley added: "Do you want me to start fighting?"
Judge Lord Stewart adjourned the trial until Friday, when Mr Buckley could face further questioning.
Before the outburst, the trial heard that Mr Buckley had a long record for dishonesty and assaults, going back to his early teens.
In August 2010 he was found guilty of throttling his then partner Leah Ingram.
Prowling the streets
He told the trial that he would not say anything about the conviction because he was still planning an appeal.
He joked about his record and said: "The police have took that much DNA from me over the years, I am surprised I have got any left."
Elaine's body was found just yards from her Ardgowan Street home early on 2 June 1986.
On the night she died Mr Buckley and a prison friend, Robert Brown, 47, had been prowling the streets in that part of town looking for houses to break into.
Mr Buckley told how they found a large semi-detached house with a window open and he climbed inside while Mr Brown waited.
"He was to keep edgy, keep watch," he said. "But his bottle crashed, he lost his nerve."
Denies murder
He admitted that he was angry that his friend had left him - and was even more angry when he believed, later, that Mr Brown "grassed him up" and got him a prison sentence for the break in.
Mr Findlay suggested to him that in the early hours of 2 June 1986 Mr Buckley had been looking for someone "to take it out on."
The lawyer continued: "You are quite happy to assault women on their own. How did you strangle your girlfriend? Why did you kill her?"
Earlier, Mr Buckley, from Ardrossan, said the plight of Elaine Doyle's grieving mother had touched his heart.
John Docherty, 49, is on trial for the teenagers murder. He denies murder and claims he was at his parents home when Elaine Doyle was strangled.
Mr Docherty has lodged a special defence of incrimination, claimed the culprit might be among a list of 41 names taken from files of the police investigation into the murder.
The trial continues.