Two Lanarkshire-based bus firms disqualified indefinitely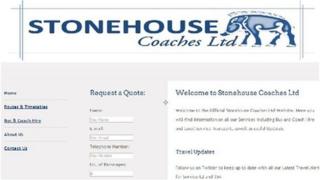 Two Lanarkshire-based bus firms have been disqualified by the Traffic Commissioner over unreliable services.
Stonehouse Coaches and A Trip in Time Ltd, both of Larkhall, had their licences revoked with immediate effect.
A public inquiry held in Edinburgh in February heard that director Brian Cutmore was a "controlling presence" of both firms' licences.
Commissioner Joan Aitken said: "I now have to conclude he cannot be trusted with an operator's licence."
She said this applied "in the capacity of owner, director or transport manager".
Indefinite disqualification
The commissioner said: "Disqualification will be indefinite. For him public service vehicle operating is over.
"He must accept that and I hope he can move to another way of earning his living."
Mr Cutmore's daughter, Stephanie, who was a director with Stonehouse Coaches, was disqualified from operating a licence for two years.
The public inquiry heard evidence of services not running; timetables not being followed; passengers being dropped off at points where there was no bus stop; tickets not being issued where payment had been made; and allegations of overcharging.